Daily Archives:
February 26, 2013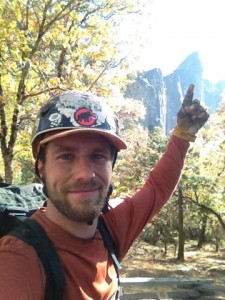 I was recently presented with an excellent dirtbag opportunity to join some friends on a quick 2 day trip to the valley. All I had to do was bring my gear, my food and water and solo whatever route I intended to do as my two friends were planning on the East Buttress of El Cap. I had heard from a certain, Cheyne Lempe, that soloing the West Face of the Leaning Tower was not only doable but fun.
We arrived in the valley around 4 and after saying hi to our friends and racking up at their house, Ryan and Chris drove me to bridalveil falls parking lot. They waved goodbye as I started up the trail with my headlamp on. It was 7pm.
I hustled the approach in 50 minutes an after scrambling the exposed 4th class to the base of the route I started up the first pitch. The WFLT has LOTS of bolts. I linked the first two pitches, a long 230′, without much incident. I cleaned on rappel taking swings each time and pulling my self back into the wall to get the next piece. After cleaning the pitch and the anchor I set up my jugs and leapt off the ledge. I swung out into space and started frog jugging, a style of jumaring the rope on a totally free hanging line.
The WFLT can be linked into 5 very loooong pitches. Normally it is 11 but linking makes it go faster. I linked the first two pitches then pitches three and four to awahnee ledge. The ledge is a bit to the left of where the route goes but it looked nice. I got to this anchor around two in the morning? There were a couple dudes sleeping on the ledge that I had a pleasant one sides chat with while they snored away. "Oh yes, I am having TONS of fun!"
I linked the next two pitches, maybe the crux if the route? And then rapped and cleaned. I got quite good at deciding which pieces to leave in to make jugging easier and when to clove hitch the rope just under a sharp edge.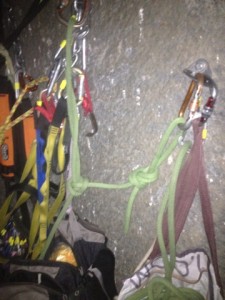 I was cleaning the fourth pitch after awahnee ledge (my 2nd pitch) when it got light. The dudes on awahnee were awake and yelled up to me that phentermine med they were in fact awake last night when I passed them and had a good laugh and a show. They said I ran it out pretty good on the pitch right above them and they thought if I fell I'd end up on the ledge with them! Maybe….but those leapfrogged cams were bomber!
I cruised up the last couple pitches totally re-energized from the new day. I reached the top of pitch 10 and made an anchor. I rapped, cleans and jugged. Gathered my rope and rack and scrambled the last pith to the summit!!! I reached the summit at 11:30 am approximately 16.5 hours after I had been dropped off in the parking lot!
I knew I'd make it in a day now. I stood on top hollering at Chris and Ryan over on the east buttress. They said later that they could hear some distant yelling but thought I was too far away!
I racked up and made the first rappel into the notch. My 70m rope proceeded to get me from anchor to anchor in style the whole descent. Not having a pig helped tremendously. I was worried about some downclimbing I had heard about near the bottom but I must have missed it with my awesome 70m because I ended up rapping to the ground with rope to spare.
A quick trip down to the base to gather my stuff and repack it all for the hike down and I was off. I felt like I was floating down the descent, super amped on what I just did. I stumbled into the parking lot at 1:30pm. 18.5 hours car to car for a 5.8 C2+ route…not bad! I started walking back toward the bridge to meet a friend and wait for Chris and Ryan. Not many people way to stop and offer a rude to a guy with a helmet and haulbag on. Wish I had Sara with me…
The climb was a success and the trip itself was memorable and fun. I got to see great friends again and push my personal limits in climbing! Thanks to Cheyne for getting me psyched to do it. Next time it will be closer to 12 hours!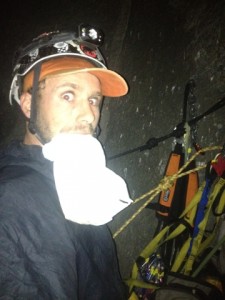 Gotta love a weekend trip to the valley! Justin Cory