Daily Archives:
January 18, 2013
Shake the winter blues and get outside! Snowshoeing is the fastest growing sport in the country for a variety of reasons.
Snowshoeing requires no particular skill. If you can hike, you can snowshoe.
Generally snowshoeing doesn't require an admission fee.
You can take the dog and even the entire family from young to old.
Pack a lunch and a thermos of hot chocolate and you are set.
Good sturdy hiking boots and a gaiter are recommended footwear.
Outerwear to keep you warm and dry is also a good idea.
On a recent holiday I ventured away from the crowds at the local ski areas and explored the trails along highway 20. The snow was fresh and deep from the last storm coating the trees and creating a winter wonderland. All this was less than 30 minutes travel from Nevada City. At Omega Overlook I headed north out of the parking lot on a trail that paralleled the highway. I followed the trail and took the first left which looped around and headed back to the starting point. The view from the trail was spectacular. The trail can provide both silence and solitude as it winds deeper into the forest.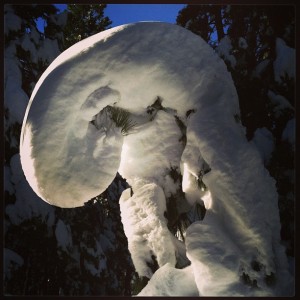 Further down the highway Steep Hollow, a nearby cross-country ski trail system marked by the Nordic Skiers of Nevada County, is located on Highway 20 just past the Alpha-Omega rest stop 18 miles east of Nevada City. For a wide open space try the area near Bowman Road. The Castle Peak area provides access to the backcountry via the Pacific Crest Trail. A Sno-Park pass is required to park for these trails.
Mountain Recreation has a full line of Atlas and MSR snowshoes, poles, and gaiters available. Rentals are $15 day and includes poles as well.
Guided tours are available from one of our professional guides. Call us at 530-477-8006.